So I have to admit, I was terrified of going to France.
I had been there before- one week in high school, on an organized tour, and I LOVED it.
However, all you hear is how the French, especially Parisians, despise Americans and will pretend not to understand English. Since Ryan's language skills only helps us in Spanish-speaking countries, I knew it was all on my high school French getting us by in France.
I haven't used French in any meaningful way in over ten years. Throw into the mix that I've been learning Spanish and my brain will frequently substitute any word I don't know in Spanish with one that I know in French and vice versa.
Seriously…I could hardly sleep from the anxiety of speaking French. C'était terrible.
The first night we arrived, we walked into a restaurant and I asked for seating for two (in French). The host proceeded to ask me something back, in French, and that's when all language left my brain. I stood there awkwardly, not understanding what was asked. Ryan jumped in and told me that he was asking if we wanted to sit inside or outside (which he had understood via gestures). Luckily the host spoke English from then on, but unluckily we were seated next to two French-speaking tables. I felt like we were being judged hardcore. In retrospect, I think it was more a matter of me feeling self-conscious rather than us being judged, but I felt uncomfortable the entire meal. I continued the rest of the evening accidentally saying "gracias" and "por favor" 🤦‍♀️.
The following days were better. I remembered to ask for things with je voudrais and s'il vous plaît. Also, my fears proved false- I was treated with the utmost respect when I started off in my limited French. If the shop owner didn't speak any English, he made every effort to meet me half way and was patient when I used Google Translate. If he did speak English, he didn't automatically switch into it but let me use whatever French I had in my arsenal.
The lessons I took away from this experience are:
Always learn a few key phrases in the native tongue of the place you're visiting. A little goes a long way.
You don't have to speak perfectly to speak another language. We all make mistakes!
GOOGLE TRANSLATE is your best friend!!
I am very happy that we were able to visit Paris. We only had three nights there, however, in a city where you can easily spend over a week! We had a lot of ground to cover, and this is how we spent our time:

The Airbnb we stayed at was in the 10th _arrondissement_, or neighborhood, on the top floor of a building without an elevator. This is the kind of situation where we're glad we travel light- could you imagine carrying several heavy suitcases up these stairs? It was tough enough with only our backpacks!

We arrived in the evening after traveling from York all day without much to eat. This is when we left in search of food, and the story I mentioned above occurred. We were shocked at how full every single restaurant was as we passed by. Usually you can gauge to a degree where the best places to eat are based on crowd size/lines; but in Paris, every place seemed to be busting at the seams with customers, overflowing out onto the streets.


Day One
The following morning, we took the metro to the Eiffel Tower.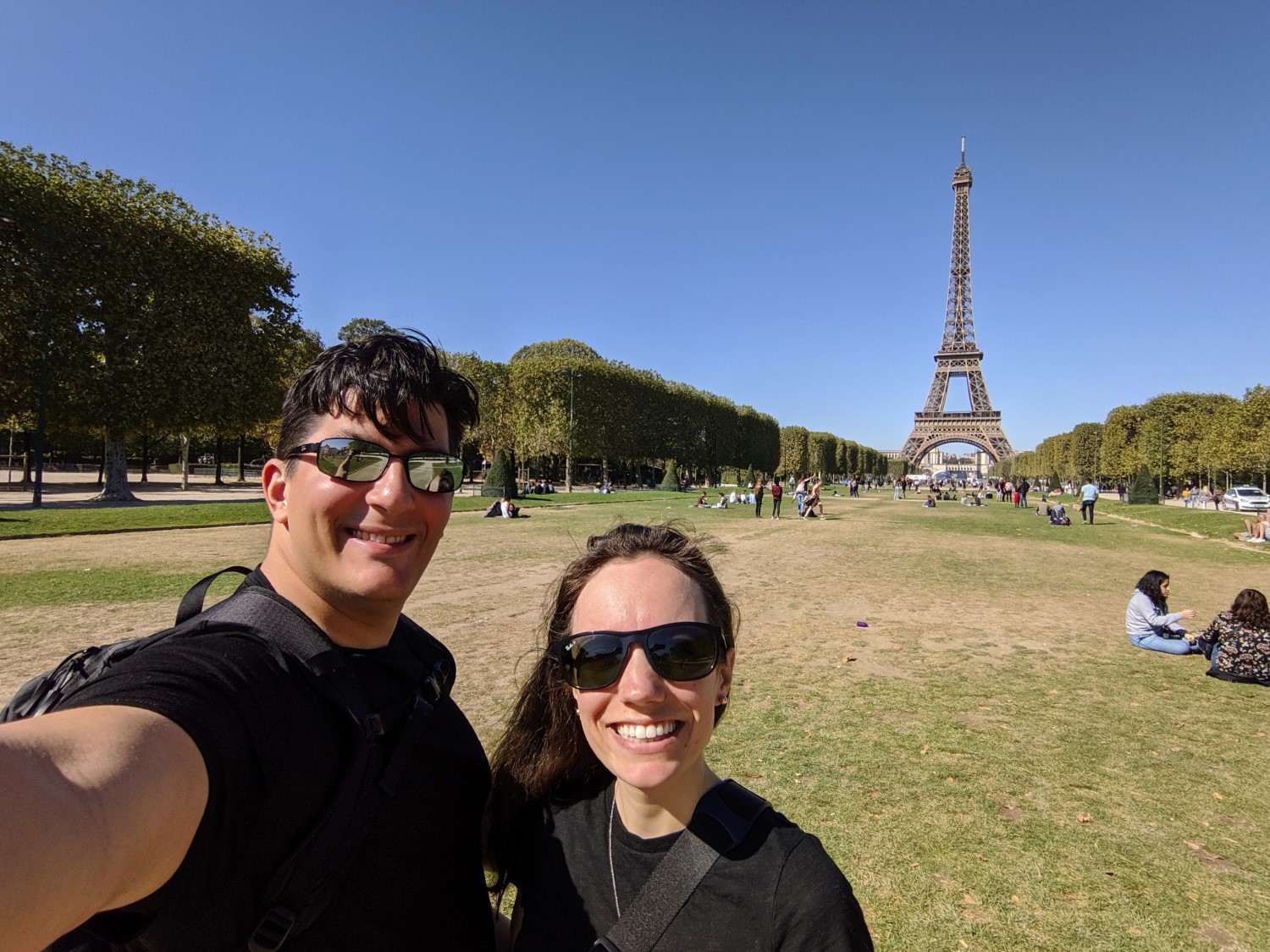 Honestly, it was a little disappointing. There were a couple grassy areas, but the rest was super dry dirt that was constantly being whipped into a dust storm at the lightest breeze. I should also mention, if it wasn't already obvious, that we really have to pick and choose what touristy activities we want to do. We opted to just see most of the sights in Paris, rather than paying to enter. As cool as it would have been to get to the top of the Eiffel Tower (like I did in 2008), it just wasn't in our budget.



Another disappointing thing was that the Wall of Peace was closed off! It was also quite neglected- there were weeds growing around it and trash collected at the base of the fence. It's the structure in the picture above in on the left side. Below is a cool shot I took from 2008.



From the Eiffel Tower we walked to the Arc De Triomphe.



It's a pretty impressive monument! It's also pretty wild to watch the traffic going around it- there aren't any lanes but the cars somehow manage to navigate without crashing into each other. From there we walked down the Champs Elysees- the home of the yellow vest protests that have been occurring every Saturday since last November (2018).
We are big fans of Rick Steves' (free) audio tours and he happens to have four tours in Paris:
Historic Paris (Île de la Cité/Notre Dame)
Pere Lachaise Cemetery
Rue Cler Walk
Orsay Museum
At this point in our day, we opted to do the Rue Cler Walk, described as, "For those learning the art of fine Parisian living, Rue Cler provides an excellent classroom. With its market stalls, casual cafes, happy shoppers, and traffic-free ambiance, Rue Cler is quintessential Paris."

We listened to Rick's descriptions as we walked past a few cafes, cheese shops, and a bakery, before we had to hit the stop button because we were so hungry! Instead of buying produce at the Rue Cler markets and having to carry it back to our neighborhood, we opted to pick a closer market: The Marche Couvert Saint Martin. This is where my French really came in handy, as it really felt local; far off from the tourists of Paris. It's a covered market with different stalls: two different fruit/vegetable stands, a cheese shop, a wine counter, a fish stand, and a butcher.

The produce was all beautifully arranged and labeled with origin information. The shopkeeper helping me provided his suggestion for the best seasonal fruit- mirabelle plums. We also picked strawberries, and two nectarines. For the nectarines, he asked,"for today or tomorrow?" and selected the two at peak freshness to be consumed later that night.



Next was the cheese counter. Again, the shopkeeper asked what kind of cheese we were looking for… Hard or soft? Mild or sharp? Cow or goat? He gave us some samples and we opted for a cheddar-like one and a creamy, mild brie.
On our way back to the apartment, we saw a line out the door of a small, corner boulangerie (bakery) and realized we too must get in line. After all, we were missing a key component to our meal- bread! Deux baguettes, s'il vous plaît Did you know that by law baguettes must weigh 250 grams and can only be made from four ingredients: flour, yeast, salt, and water? Also the price is controlled by the government- one euro per baguette.
We rushed home, up seven flights of stairs, and proceeded to have one of the best meals of our trip so far. Bread, cheese, and fruit- so simple and yet so amazing.



I'm still dreaming of that meal.
Because most Parisians live in small apartments with tiny kitchens (and proportionally small refrigerators) they usually have to grocery shop at least once per day. This is such a vastly different experience of Americans, where we try to limit grocery trips to once a week. For us, it's a dream to be able to buy fresh, tasteful produce every day. I know we're lucky that in California there are many farmer's markets, but it doesn't feel the same as what's available in Paris.
Day Two
The second day's weather was forecasted to be mid 80s, which was by far the hottest day we've had since May. It also happened to be the day we logged over 15 miles of walking 😂.



First we walked to the Louvre, just to explore the exterior. We opted to only go to one museum while we were here- the Musée d'Orsay It was the most memorable from my trip in 2008 and also the only one with a Rick Steves audio tour.



The Orsay Museum has a HUGE collection of impressionists, set inside an old train station, creating a truly special atmosphere. We spent over 2.5 hours here, partly listing to the tour and partly exploring on our own.
It was well past lunchtime by the time we finished, so we found an inexpensive crepe stand somewhat nearby. The gentleman behind the counter spoke perfect French to greet us, switched into English once he realized we were American, then a Peruvian woman stepped in behind us and he spoke perfect Spanish to her. Then a few Italians came in to get waters, and he switched to Italian. It was so impressive! Ryan asked how many languages he could speak, and his answer was that he spoke "one language- the Language of Love!"
Anyways, we had great cheese and tomato crepes here, plus a freshly squeezed orange juice and a dessert crepe made with organic honey.
We walked to the Luxemboug gardens after eating, only to find they were closed due to protests. Oh well, it is France after all. Instead we stumbled upon Fontaine St. Michel, below.



We rushed back to the apartment to buy more bread, cheese, and produce to make sandwiches for the train to Switzerland the following day.
With our grocery shopping done, we headed back out to finish our time in Paris with Rick Steves' "Historic Paris" walk on the Île de la Cité. But we were shocked to find the Notre Dame completely inaccessible!

Yes, we heard about the fire and knew we wouldn't be able to get inside at all, but neither of us thought there would be a giant wall around the structure, completely obscuring any views.

By this time, the sun was setting and the Notre Dame reconstruction severely limited the scope of the audio tour, so we enjoyed the magic hour lighting on the city as we slowly made our way to the Pont Neuf.



We stopped for a moment to enjoy Paris at sunset, overhearing a live band at a nearby cafe playing Al Green's "Let's Stay Together." Unfortunately the following morning was going to be brutally early so we had to tear ourselves away from the magical ambiance created by the City of Light.



With so much unfinished business- Paris, I can promise you we'll be back.
---
DWNTGB (Do We Need To Go Back) Rating
Ryan -
It was my first time in Paris, and while there were plenty of things to NOT like- it was the dirtiest place we've been to in Europe, the beggars/scammers are incredibly annoying, and I found the city to be quite expensive (though it's cheap compared to Switzerland)- there's a ton to see there, and a lot to enjoy. I definitely felt like we rushed through as much as we could, but there's a lot more left to explore, a lot left to enjoy, and a lot left to revisit with more time.
Mollie -
Absolutely. Preferrably with paid time off so that we can actually afford to do things and stay in a nicer part of town. But I also would like to explore other, less touristy parts of France also.
---
See also